Hands-free system for mobile phones
The hands-free system is a function that allows you to use your mobile phone without touching it.
This system supports Bluetooth® mobile phones. Bluetooth® is a wireless data system that allows the mobile phone to wirelessly connect to the hands-free system and make/receive calls.
- Vehicles with a navigation system.
Owners of models equipped with a navigation system should refer to the "Navigation System Owner's Manual".
- Vehicles without a navigation system.

Conditions under which the system will not operate
If using a mobile phone that does not support Bluetooth®.
If the mobile phone is switched off.
If you are outside service range.
If the mobile phone is not connected.
If the mobile phone's battery is low.
If the mobile phone is behind the seat or in the glove box or console box.
If metal is covering or touching the phone.
When using the hands-free system
The audio system and voice guidance are muted when making a call.
If both parties speak at the same time, it may be difficult to hear.
If the incoming call volume is overly loud, an echo may be heard.
Try to face toward the microphone as much as possible when speaking.
In the following circumstances, it may be difficult to hear the other party: • When driving on unpaved roads.
• When driving at high speeds.
• When a window is open.
• When the air conditioning is blowing directly on the microphone.
• When the air conditioning is set to high.
When transferring ownership of the vehicle
Be sure to initialize the system to prevent personal data from being improperly
accessed.
About Bluetooth®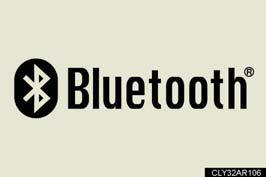 Bluetooth is a registered trademark of Bluetooth SIG. Inc.
Compatible models
Compatible with HFP (Hands Free Profile) Ver. 1.0 or higher (Conformed: Ver. 1.5)
and OPP (Object Push Profile) Ver. 1.1.
If your mobile phone does not support HFP, you cannot enter the Bluetooth® phone. If your mobile phone supports OPP alone, you cannot use the Bluetooth® phone.
Certification for the hands-free system
FCC ID: AJDK018.
IC ID: 775E-K018.
MADE IN JAPAN.
This device complies with Part 15 of the FCC Rules and RSS-Gen of IC Rules.
Operation is subject to the following two conditions: (1) This device may not cause
harmful interference, and (2) This device must accept any interference received, including interference that may cause undesired operation.
CAUTION:
FCC WARNING
Changes or modifications not expressly approved by the party responsible for compliance could void the user's authority to operate the equipment.
Radio Frequency Radiation Exposure. This equipment complies with FCC radiation exposure limits set forth for uncontrolled equipment and meets the FCC radio frequency
(RF) Exposure Guidelines in Supplement C to OET65. This equipment has very low levels of RF energy that it deemed to comply without maximum permissive exposure evaluation (MPE). But it is desirable that it should be installed and operated
with at least 7.9 in. (20 cm) and more between the radiator and person's body (excluding extremities: hands, wrists, feet and ankles).
This transmitter must not be co-located or operated in conjunction with any other
antenna or transmitter.
Caution while driving
Do not use a mobile phone or connect the Bluetooth® phone.
NOTICE:
To prevent damage to mobile phones Do not leave mobile phones in the vehicle. The temperature inside the vehicle may
become high, resulting in damage to the phone.
See also:
Engine/Transmission/Drivetrain/Performance
The Lexus LS 460 models deliver the luxury of powerful, smooth performance from a 4.6-liter V8 teamed with an eight-speed automatic transmission. The engine produces 380 horsepower and 367 lb.-ft. ...
LEXUS HYBRID DRIVE POWERTRAIN
With many rival manufacturers yet to produce a first generation hybrid, Lexus already has over a decade of experience in full hybrid powertrains. Marking the introduction of Lexus' second generati ...
Positioning a floor jack
When raising your vehicle with a floor jack, position the jack correctly. Improper placement may damage your vehicle or cause injury. Front Rear CAUTION: When raising your vehicle: Make sure ...