Head-up display
The head-up display can be used to project vehicle speed and other information
onto the windshield.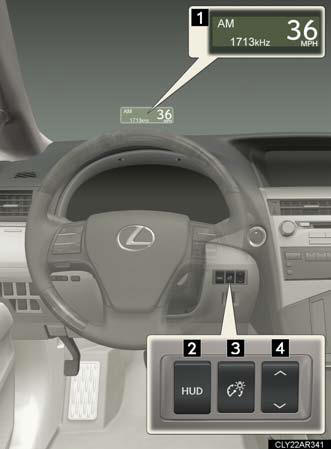 1. Head-up display.
Display brightness will change automatically according to the brightness of the surrounding area.
2. Head-up display main switch.
3. Display contrast adjustment switch.
Display brightness can be adjusted to the desired level..
4. Display position adjustment switch.
Head-up display contents
In addition to vehicle speed, the following information will be displayed: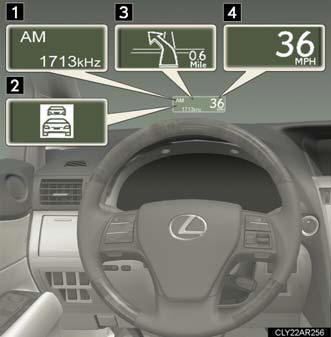 1. Audio display.
Displays audio information for approximately 3 seconds when the audio system is operated.
2. Dynamic radar cruise control (if equipped).
Displays the approach warning message.
3. Turn-by-turn navigation*.
Displays a notification of upcoming intersections during navigation system route guidance.
4. Vehicle speed display.
*: Refer to "Navigation System Owner's Manual".
Head-up display main switch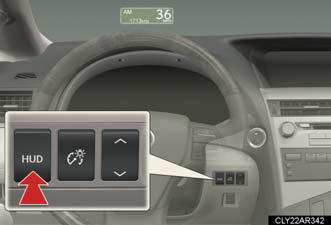 Pressing the button turns the head-up display on/off and changes the vehicle speed display units as follows:
- Vehicles sold in the U.S.A.
OFF → ON (mph) → ON (km/h) → OFF.
- Except vehicles sold in the U.S.A.
OFF → ON (km/h) → ON (mph) → OFF.
Display adjustment
- Adjusting display contrast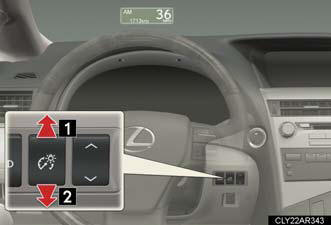 1. Brighter.
2. Darker.
- Adjusting display position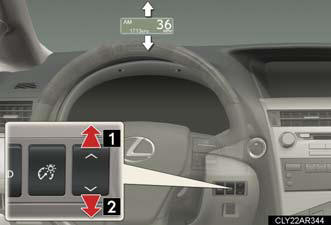 1. Higher.
2. Lower.
Display customization
The audio mode display can be shown or hidden.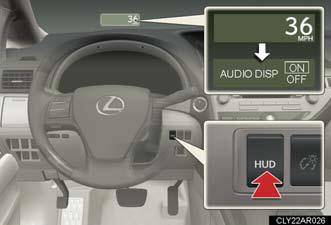 Pressing and holding the head-up display main switch button for more than 2 seconds changes the display to audio display on/off mode. Press the head-up display main switch button to turn the audio display on/off.
Customization can be performed when the head-up display is on and the vehicle is traveling at less than 5 mph (8 km/h).
Brightness of the head-up display
The headlight control sensor detects the brightness of the area surrounding the
head-up display and adjusts the brightness accordingly.
Head-up display
The head-up display may seem dark and hard to see when viewed through sunglasses,
especially polarized sunglasses.
Adjust the brightness of the head-up display or remove your sunglasses.
CAUTION:
Before using the head-up display Check that the position and brightness of the head-up display image does not interfere
with safe driving. Incorrect adjustment of the image's position or brightness may obstruct the driver's view and lead to an accident, resulting in death or serious
injury.
NOTICE:
To prevent damage to components Do not place anything on the head-up display opening.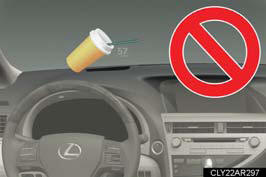 If an object falls into the opening of the head-up display, remove it immediately.
Also, avoid spilling water or other liquids near the head-up display opening as this may cause mechanical damage.
See also:
Most recent Lexus GS 300
Last redesigned for 2006, the third-generation Lexus GS 300 lasted only one year, as Lexus installed a powerful new 3.5-liter V6 in its rear-drive midsize sedan the following year, prompting a nam ...
Interior Design
The IS models' luxurious cabin features intelligently designed displays and controls that are easy to see and use. Bright, clear Optitron gauges and smartly integrated metallic trim, or available ...
If your vehicle needs to be towed
If towing is necessary, we recommend having your vehicle towed by your Lexus dealer or a commercial towing service, using a lift-type truck or a flatbed truck. Use a safety chain system for all tow ...