Gauges and meters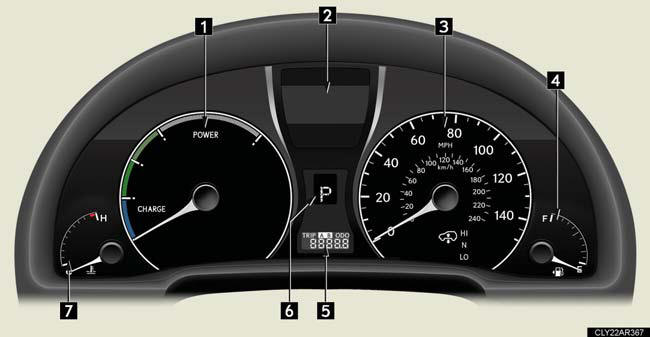 1. Hybrid System Indicator.
Displays hybrid system output or regeneration level.
2. Multi-information display.
3. Speedometer.
Displays the vehicle speed.
4. Fuel gauge.
Displays the quantity of fuel remaining in the tank.
5. Odometer and trip meter.
Odometer: Displays the total distance the vehicle has been driven.
Trip meter: Displays the distance the vehicle has been driven since the meter was last reset. Trip meters "A" and "B" can be used to record and display different distances independently.
6. Shift position and shift range display.
7. Engine coolant temperature gauge.
Displays the engine coolant temperature.
Changing the display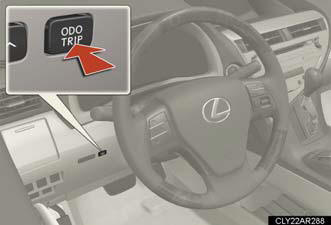 Switches between odometer and trip meter displays. When the trip meter is displayed, pressing and holding the button will reset the trip meter.
Instrument panel light control
The brightness of the instrument panel lights can be adjusted.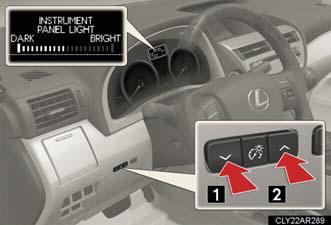 1. Darker.
2. Brighter.
The meters and display illuminate when
The "POWER" switch is in ON mode.
Hybrid System Indicator
By keeping the indicator within the Eco area, more environment-friendly driving
can be achieved.
The Charge area indicates regeneration* status. Regenerated energy will be used to charge the hybrid battery (traction battery).
*: When used in this manual, "regeneration" refers to the conversion of energy created
by the movement of the vehicle into electrical energy.
NOTICE:
To prevent damage to the engine and its components The engine may be overheating if the engine coolant temperature gauge is in the red zone (H). In this case, immediately stop the vehicle in a safe place, and check
the engine after it has cooled completely.
See also:
Current Lexus IS 250
Lexus sells the IS 250 in a single trim level, with either rear-wheel drive or all-wheel drive. For power, the 250 comes with a 2.5-liter V6 rated for 204 horsepower and 185 pound-feet of torque. ...
Safety/Security Features
The Adaptive Front-lighting System (AFS), standard on the Lexus GS 460 and optional for the GS 350, helps illuminate a curve as the driver steers into it. A Tire Pressure Monitoring system can det ...
Interior
Where the RX really shines is in the cabin. The base RX 350 has a terrifically upscale interior for $37,250. Even at the hybrid's starting price of $42,110, it seems lush and well worth the money. ...