Anti-glare inside rear view mirror
In automatic mode, sensors are used to detect the headlights of vehicles behind and the reflected light is automatically reduced.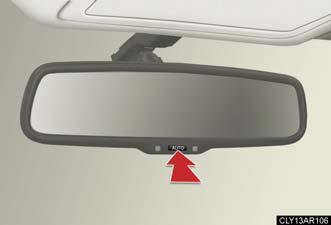 Turns automatic mode on/off The indicator comes on when automatic mode is turned on.
The mirror will revert to automatic mode each time the
"POWER" switch is turned to ON mode.
To prevent sensor error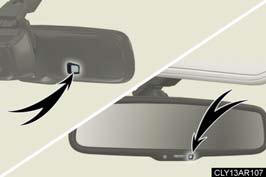 To ensure that the sensors operate properly, do not touch or cover them.
CAUTION:
Caution while driving
Do not adjust the position of the mirror while driving.
Doing so may lead to mishandling of the vehicle and cause an accident, resulting in
death or serious injury.
See also:
Light bulbs
You may replace the following bulbs by yourself. The difficulty level of replacement varies depending on the bulb. If necessary bulb replacement seems difficult to perform, contact your Lexus dealer ...
Interior
Lexus says the 4 inches of greater length from bumper to bumper adds the same amount to the cabin. In terms of legroom, inches make a big difference. Still, the third-row seats are similar to the ...
Fog light switch
The fog lights improve visibility in difficult driving conditions, such as in rain and fog. - U.S.A. 1. Turns the front fog lights off. 2. Turns the front fog lights on. - Canada 1. Turn ...