Anti-glare inside rear view mirror
In automatic mode, sensors are used to detect the headlights of vehicles behind and the reflected light is automatically reduced.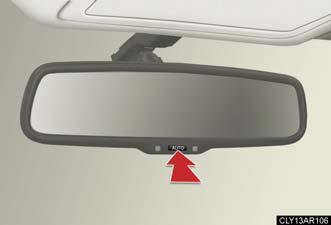 Turns automatic mode on/off The indicator comes on when automatic mode is turned on.
The mirror will revert to automatic mode each time the
"POWER" switch is turned to ON mode.
To prevent sensor error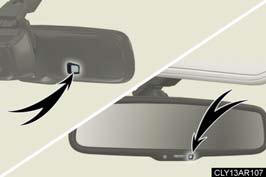 To ensure that the sensors operate properly, do not touch or cover them.
CAUTION:
Caution while driving
Do not adjust the position of the mirror while driving.
Doing so may lead to mishandling of the vehicle and cause an accident, resulting in
death or serious injury.
See also:
Luxury Amenities
In addition to its numerous standard features and advanced technologies, the LX 570 will also be available with a number of optional amenities including climate controlled front seats and heated r ...
Lexus Audio Systems with Bamboo Charcoal Speakers
The Lexus CT 200h builds on the legendary standards already established by Lexus in the field of in-car high fidelity with a choice of three powerful audio systems. Fitted as standard, the entry ...
Interior Design, Ergonomics and Packaging
The visual impact of L-finesse is carried into the interior. Once again, a powerful simplicity of form harmonises with the hand-crafted quality feel of even the smallest details to create a unique ...