Anti-glare inside rear view mirror
In automatic mode, sensors are used to detect the headlights of vehicles behind and the reflected light is automatically reduced.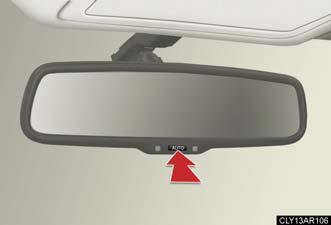 Turns automatic mode on/off The indicator comes on when automatic mode is turned on.
The mirror will revert to automatic mode each time the
"POWER" switch is turned to ON mode.
To prevent sensor error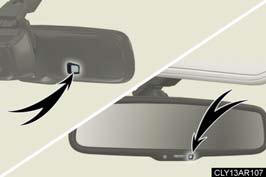 To ensure that the sensors operate properly, do not touch or cover them.
CAUTION:
Caution while driving
Do not adjust the position of the mirror while driving.
Doing so may lead to mishandling of the vehicle and cause an accident, resulting in
death or serious injury.
See also:
Interior
The interior is where this lady really shines and pampers me (as a single mom, I'm totally OK with the idea of someone pampering me for a change). For those blessed enough to live in warm climates ...
Interior
Where the RX really shines is in the cabin. The base RX 350 has a terrifically upscale interior for $37,250. Even at the hybrid's starting price of $42,110, it seems lush and well worth the money. ...
Seat heaters and ventilators
The seat heaters and ventilators heat the seats and maintain good airflow by blowing air from the seats. Seat heaters 1. Turns the seat heater on. The indicator light comes on. The higher the n ...