Electronic key battery
Replace the battery with a new one if it is discharged.
You will need the following items:
Flathead screwdriver.
- Small Phillips-head screwdriver.
- Lithium battery (CR1632).
Replacing the battery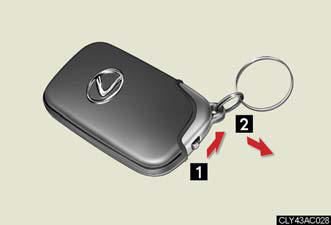 Take out the mechanical key.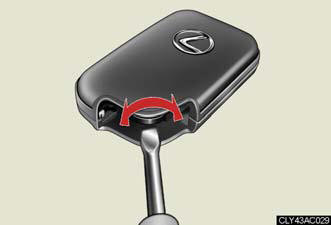 Remove the cover.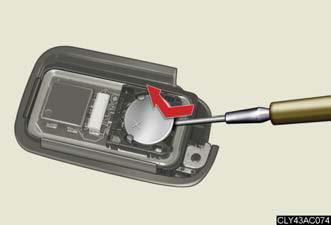 Remove the depleted battery.
Insert a new battery with the + terminal facing up.
If the electronic key battery is discharged
The following symptoms may occur.
- The smart access system with push-button start and wireless remote control will
not function properly.
- The operational range is reduced.
Use a CR1632 lithium battery
l Batteries can be purchased at your Lexus dealer, jewelers, or camera stores.
- Replace only with the same or equivalent type recommended by a Lexus dealer.
- Dispose of used batteries according to the local laws.
CAUTION:
Removed battery and other parts Keep away from children.
These parts are small and if swallowed by a child they can cause choking.
NOTICE:
For normal operation after replacing the battery Observe the following precautions to prevent accidents.
- Always work with dry hands.
Moisture may cause the battery to rust.
- Do not touch or move any other components inside the remote control.
- Do not bend either of the battery terminals.
See also:
Thrust vs. Thrift
Thanks to the drivetrain's immediate thrust, the CT 200h has adequate oomph for driving solo: It scoots from a stoplight well enough and maintains highway speeds with little trouble. But it lacks ...
Operating an iPod® player
Connecting an iPod® player enables you to enjoy music from the vehicle speakers. Connecting an iPod® player Slide the armrest while pulling up the lever, and lift t ...
Exterior
Despite undergoing a redesign for 2010, the GX 460 looks pretty much like you'd expect a large Lexus SUV to look. It's a little sleek, a little rugged and a little boxy; basically, it's a little b ...