Floor mat
Use only floor mats designed specifically for vehicles of the same model and model year as your vehicle. Fix them securely in place onto the carpet.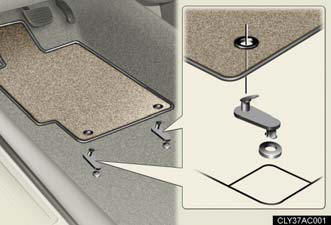 Fix the floor mat in place using the retaining hooks (clips) provided.
For details, refer to the floor mat retention clip installation instructions supplied with the clips.
CAUTION:
Observe the following precautions.
Failure to do so may cause the driver's floor mat to slip, possibly interfering with the
pedals while driving. An unexpectedly high speed may result or it may become difficult
to stop the vehicle, leading to a serious accident.
When installing the driver's floor mat - Do not use floor mats designed for other models or different model year vehicles,
even if they are Lexus Genuine floor mats.
- Only use floor mats designed for the driver's seat.
- Always install the floor mat securely using the retaining hooks (clips) provided.
- Do not use two or more floor mats on top of each other.
- Do not place the floor mat bottom-side up or upside-down.
CAUTION:
Before driving
- Check that the floor mat is securely fixed in the right place with all the provided
retaining hooks (clips). Be especially careful to perform this check after cleaning
the floor.
- With the engine stopped and the shift lever in P, fully depress each pedal to the
floor to make sure it does not interfere with the floor mat.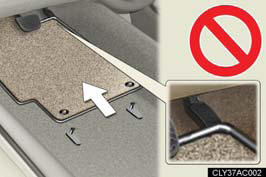 See also:
Interior
Where the RX really shines is in the cabin. The base RX 350 has a terrifically upscale interior for $37,250. Even at the hybrid's starting price of $42,110, it seems lush and well worth the money. ...
Vehicle Details
Interior Supple leather, brushed aluminum and beautiful polished woods decorate the 2011 Lexus GS's well-organized and luxuriously comfortable cabin. In a realm where typical Lexus levels of fit ...
Features
While the RX 450h is reasonably priced to start at $42,110, adding options quickly ratchets up the sticker price. Items you might find standard on other cars in this class, like those heated and c ...