Floor mat
Use only floor mats designed specifically for vehicles of the same model and model year as your vehicle. Fix them securely in place onto the carpet.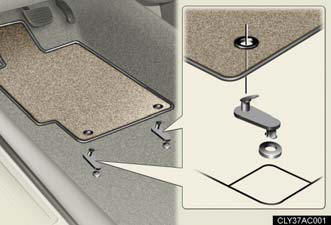 Fix the floor mat in place using the retaining hooks (clips) provided.
For details, refer to the floor mat retention clip installation instructions supplied with the clips.
CAUTION:
Observe the following precautions.
Failure to do so may cause the driver's floor mat to slip, possibly interfering with the
pedals while driving. An unexpectedly high speed may result or it may become difficult
to stop the vehicle, leading to a serious accident.
When installing the driver's floor mat - Do not use floor mats designed for other models or different model year vehicles,
even if they are Lexus Genuine floor mats.
- Only use floor mats designed for the driver's seat.
- Always install the floor mat securely using the retaining hooks (clips) provided.
- Do not use two or more floor mats on top of each other.
- Do not place the floor mat bottom-side up or upside-down.
CAUTION:
Before driving
- Check that the floor mat is securely fixed in the right place with all the provided
retaining hooks (clips). Be especially careful to perform this check after cleaning
the floor.
- With the engine stopped and the shift lever in P, fully depress each pedal to the
floor to make sure it does not interfere with the floor mat.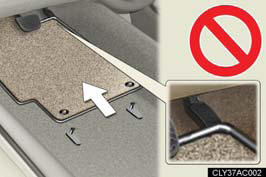 See also:
Under the Hood
For 2006, the 4.7-liter V-8 produces 263 hp and 323 pounds-feet of torque. Those numbers are down slightly from the 2005 model's 270 hp and 330 pounds-feet of torque due to new SAE testing procedu ...
If the vehicle becomes stuck
Carry out the following procedures if the tires spin or the vehicle becomes stuck in mud, dirt, or snow. Stop the engine. Set the parking brake and put the shift lever in P. - Remove the mud, sno ...
Lexus Hybrid Drive System Architecture
The Lexus CT 200h's second generation full hybrid system features a 1.8 litre petrol engine, a powerful electric motor, a 42kW generator, a high performance, 202V, 27kW battery, a power control un ...