Rear sunshade
The rear sunshade can be raised and lowered by operating the switch shown below.

Type A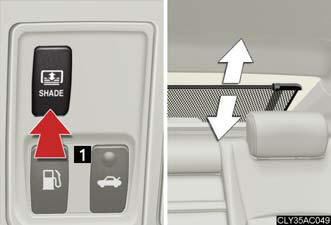 1. Raise/lower

Type B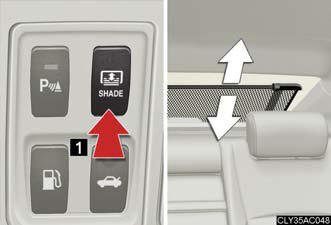 1. Raise/lower
The rear sunshade can be used when
The "ENGINE START STOP" switch is in IGNITION ON mode.
Reverse operation feature
The rear sunshade automatically lowers when the shift lever is shifted into R. The
rear sunshade rises when the shift lever is shifted out of R and vehicle speed reaches 9 mph (15 km/h).
When the reverse operation feature does not operate
The rear sunshade may not lower or rise automatically. In this case, press the switch
to lower or raise the rear sunshade.
CAUTION:
When the rear sunshade is being raised or lowered Do not place fingers or other objects in the fastener section or in the opening.
They may get caught, causing injury.
NOTICE:
To prevent the battery from being discharged Do not operate the rear sunshade when the engine is not running.
To ensure normal operation of the sunshade Observe the following precautions.
- Do not place excessive load on the motor or other components.
- Do not place objects where they may hinder opening and closing operations.
- Do not attach items to the rear sunshade.
- Keep the opening clean and clear of obstructions.
- Do not operate the rear sunshade continuously over long periods of time.
See also:
Energy Saving and Environmental Performance
Allowing for independent control of left and right hand sides of the cabin, the new CT 200h is equipped with a compact, lightweight air conditioning unit. It incorporates a hybrid battery-powered ...
Interior Design
The thin film transistor instrument panel sets the tone for blending functional high-tech with pleasing aesthetics. Tasteful wood and chrome trim as well as refinements to the interior lighting cr ...
Customizable features
Your vehicle includes a variety of electronic features that can be personalized to suit your preferences. Programming of these preferences can be performed by your Lexus dealer. It is also possib ...