Armrest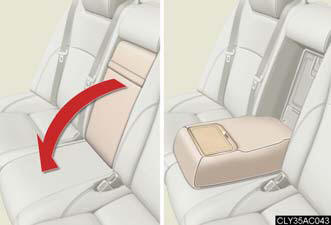 Pull the armrest down for use.
NOTICE:
To prevent damage to the armrest Do not place too much strain on the armrest.
See also:
2011 Lexus IS review
The 2011 Lexus IS ranks 10 out of 21 Upscale Midsize Cars. This ranking is based on our analysis of 63 published reviews and test drives of the Lexus IS, and our analysis of reliability and safety ...
Seat belt instructions for Canadian owners (in French)
The following is a French explanation of seat belt instructions extracted from the seat belt section in this manual. See the seat belt section for more detailed seat belt instructions in English. ...
Hybrid vehicle driving tips
For economical and ecological driving, pay attention to the following points: Use of the Hybrid System Indicator More fuel efficient driving is possible by keeping the indicate of the Hybrid Syste ...