Armrest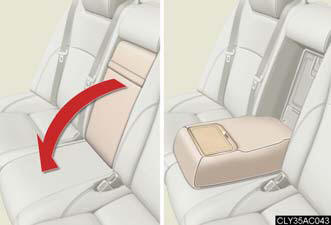 Pull the armrest down for use.
NOTICE:
To prevent damage to the armrest Do not place too much strain on the armrest.
See also:
Wheels
If a wheel is bent, cracked or heavily corroded, it should be replaced. Otherwise, the tire may separate from the wheel or cause loss of handling control. Wheel selection When replacing wheels, c ...
2011 Lexus CT 200h review By G. Chambers Williams III
Lexus will bring its first compact hybrid vehicle to market early next year, the CT 200h hatchback, Toyota's luxury brand announced this week at the New York auto show. It will be the first &quo ...
Engine/Transmission/Drivetrain/Performance
The IS 250's 2.5-liter V6 engine delivers 204 horsepower at 6,400 RPM and 185 lb.-ft. of peak torque at 4,800 rpm. The Lexus IS 350's 3.5-liter V6 offers a more potent 306 horsepower at 6,400 RPM ...