Seat heaters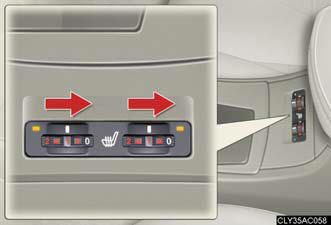 Heats the seats.
The indicator light comes on.
The higher the number, the warmer the seats become.
The seat heaters and ventilators can be used when
The "ENGINE START STOP" switch is in IGNITION ON mode.
When not in use
Set the dial to 0. The indicator light turns off.
CAUTION:
Burns
- Use caution when seating the following persons in a seat with the seat heater on
to avoid the possibility of burns: • Babies, small children, the elderly, the sick and the disabled • Persons with sensitive skin • Persons who are fatigued • Persons who have taken alcohol or drugs that induce sleep (sleeping drugs, cold remedies, etc.)
- Do not cover the seat with anything when using the seat heater.
Using the seat heater with a blanket or cushion increases the temperature of the seat and may lead to overheating.
NOTICE:
To prevent seat heater damage Do not put unevenly weighted objects on the seat and do not stick sharp objects (needles, nails, etc.) into the seat.
To prevent battery discharge Set the dial to 0 when the engine is not running.
See also:
RX 450h in the Market
I've personally never understood car shoppers' desire to get a hybrid version of a luxury car or SUV, even if the mileage gains are significant, as they are in the RX; these buyers can afford more ...
Overview
The Lexus CT 200h marks the introduction of the first, and only, full hybrid vehicle to the core of the premium compact segment. Lexus' first ever compact, five-door car, the Lexus CT 200h full hy ...
Ride & Handling
Review-OnRoad The IS turns in swiftly, grips keenly and is unfazed by mid-corner bumps. It's a shame, then, that the steering doesn't offer more feedback and that the pay-off for impressive contro ...