Ashtray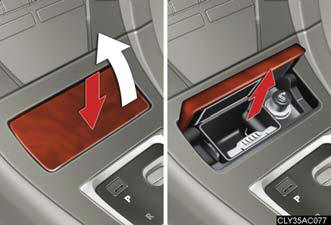 Push the back part of the lid to open.
To remove, pull the ashtray upwards.
CAUTION:
When not in use
Keep the ashtray closed.
Injuries may result in the event of sudden braking, sudden swerving or an accident.
To prevent fire
- Fully extinguish matches and cigarettes before putting them in the ashtray, then
make sure the ashtray is fully closed.
- Do not place paper or any other type of flammable object in the ashtray.
See also:
2011 Lexus RX 350
After a week test-driving the 2011 Lexus RX 350, a headline in the Wall Street Journal's April 18, 2011, edition caught my eye: "Lexus Falls Behind Rivals." The timing of this article wa ...
Safety/Security Features
The Lexus GX 460, like all Lexus models, is equipped with an array of dynamic safety systems. Vehicle Stability Control (VSC) helps keep the Lexus GX 460 going on its intended course by detecting ...
Innovative Suspension and Technologies
Significant upgrades to the suspension and full-time four-wheel-drive system raise the LX to new levels of driving comfort and performance, on- and off-road. A Four-Wheel Electro-Hydraulic Suspens ...