Operating a Bluetooth® enabled portable player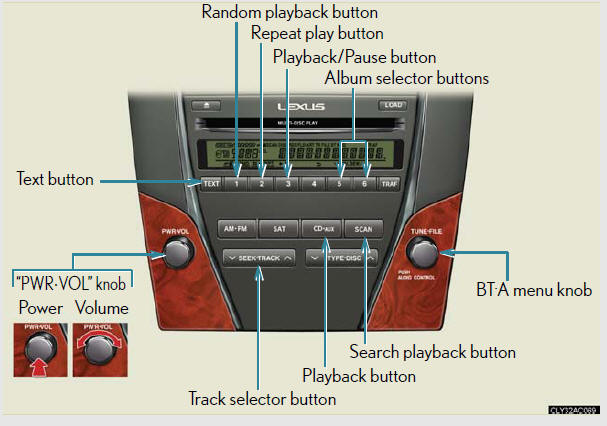 Selecting an album
To select the desired album, press



or


.
Selecting tracks
Press

or


on


to select the desired track.
Playing and pausing tracks
To play or pause a track, press

(


).
Fast-forwarding and rewinding tracks
To fast-forward or rewind, press and hold

or


on


until you hear a beep.
Random playback
Press

(RAND).

To cancel, press

(RAND) again.
Repeat play
Press

(RPT).

To cancel, press

(RPT) again.
Scanning tracks
Press

.

To cancel, press

again.
Switching the display
Press

.

Each time the button is pressed, the display changes in the following order: Elapsed time → Album title → Track title → Artist name
Bluetooth® audio system functions
Depending on the portable player that is connected to the system, certain functions
may not be available.
Error message
"Memory Error": This indicates a problem in the system.
See also:
Improved Power Performance
The LX 570 will be equipped with a powerful 5.7-liter V8 engine that will produce 381 horsepower, over 110 more than the vehicle it replaces and over 400 lb.-ft. of torque. The engine will be mate ...
Used Lexus LS 460 Models
The present-generation Lexus LS 460 debuted in 2007 and has received only minor updates so far. If you want all-wheel drive, note that it wasn't available on the 2007 and '08 models. For 2010, Lex ...
Performance
In combination, the Lexus Hybrid Drive system's petrol engine and electric motor generate a total system power output of 136 DIN hp. Via continuously variable transmission, the Lexus CT 200h will ...