Optimal use of the audio system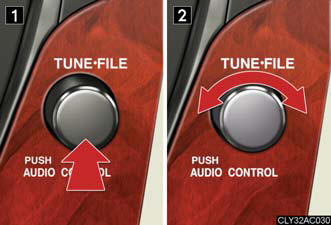 1. Displays the current mode.
2. Changes the following setting.
• Sound quality and volume balance.
The sound quality and balance setting can be changed to produce the best sound.
• Automatic Sound Levelizer ON/OFF.
Adjusting sound quality and volume balance
Changing sound quality modes
Press

.

Pressing the button changes sound modes in the following order: "BAS"→"MID"→"TRE"→"FAD"→"BAL"→"ASL".
Adjusting sound quality
Turning

adjusts the level.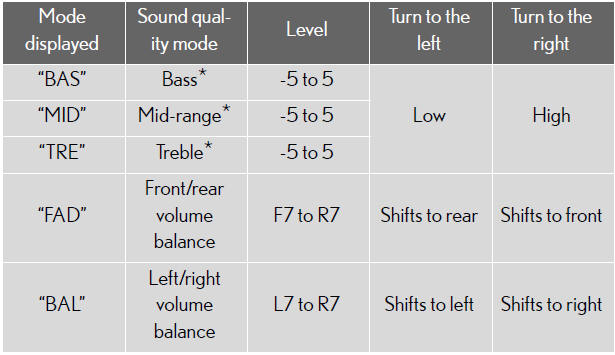 *: The sound quality level is adjusted individually in each audio mode.
Turning the Automatic Sound Levelizer (ASL) on/off
Turning

clockwise turns on the
ASL, and turning

counterclockwise
turns off the ASL.
ASL automatically adjusts the volume and tone quality according to the noise level as you drive your vehicle.
See also:
Turn signal lever
The turn signal lever can be used to show the following intention of the driver: 1. Right turn. 2. Left turn. 3. Lane change to the right (push and hold the lever partway). The right hand sign ...
Review: 2010 Lexus ES 350
The entry-level luxury sedan segment doesn't command the enthusiast attention of, say, the ultra-premium luxury sports sedan. But if you ask automakers to choose between the two, we'd wager that m ...
2011 Lexus CT 200h review By Kelsey Mays
Americans love hybrid hatchbacks, but mostly for the hybrid part; overall, we're still lukewarm on traditional hatchbacks. Lexus added a third ingredient — budget luxury — to create the CT 200h. W ...