Optimal use of the audio system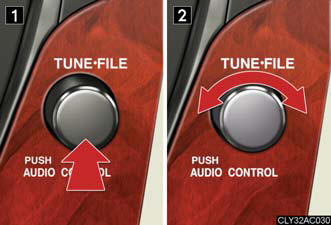 1. Displays the current mode.
2. Changes the following setting.
• Sound quality and volume balance.
The sound quality and balance setting can be changed to produce the best sound.
• Automatic Sound Levelizer ON/OFF.
Adjusting sound quality and volume balance
Changing sound quality modes
Press

.

Pressing the button changes sound modes in the following order: "BAS"→"MID"→"TRE"→"FAD"→"BAL"→"ASL".
Adjusting sound quality
Turning

adjusts the level.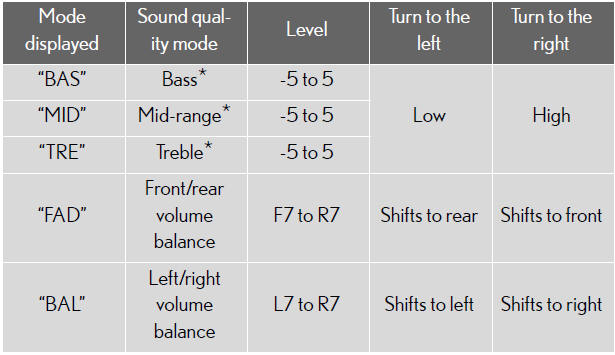 *: The sound quality level is adjusted individually in each audio mode.
Turning the Automatic Sound Levelizer (ASL) on/off
Turning

clockwise turns on the
ASL, and turning

counterclockwise
turns off the ASL.
ASL automatically adjusts the volume and tone quality according to the noise level as you drive your vehicle.
See also:
LEXUS HYBRID DRIVE POWERTRAIN
With many rival manufacturers yet to produce a first generation hybrid, Lexus already has over a decade of experience in full hybrid powertrains. Marking the introduction of Lexus' second generati ...
Exterior
The front of the LX 570 is dominated by a large grille and angular headlights. The corners of the SUV are rounded, and the smooth body panels are free of cladding. Even with these styling cues, ho ...
Exterior
Despite undergoing a redesign for 2010, the GX 460 looks pretty much like you'd expect a large Lexus SUV to look. It's a little sleek, a little rugged and a little boxy; basically, it's a little b ...