Windshield wipers and washer
With "AUTO" selected, the wipers will operate automatically when the sensor detects falling rain. The system automatically adjusts wiper timing in accordance with rain volume and vehicle speed.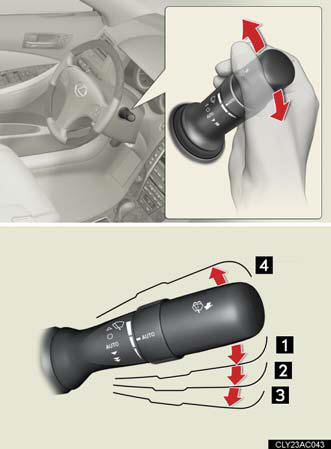 1. Rain-sensing windshield wiper operation.
2. Low speed windshield wiper operation.
3. High speed windshield wiper operation.
4. Temporary operation.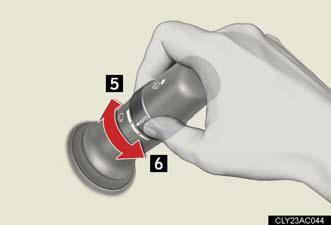 5. Sensor sensitivity (high).
6. Sensor sensitivity (low).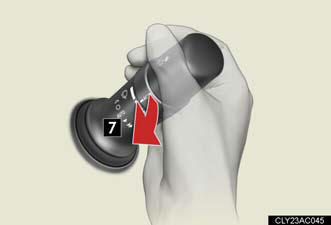 7. Wash/wipe operation.
Wipers operate automatically.
(With "AUTO" selected, after operating several times, the wipers operate one more time after a short delay to prevent dripping.)
The windshield wiper and washer can be operated when
The "ENGINE START STOP" switch is in IGNITION ON mode.
Rain drop sensor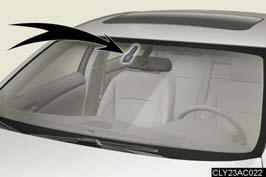 The sensor judges the amount of raindrops.
If the temperature of the raindrop sensor is 194°F (90°C) or higher, or 5°F (-15°C) or lower, automatic operation may not occur. In this case, operate the wipers in any mode other than "AUTO",
AUTO mode
If the wiper switch is turned to AUTO position while the "ENGINE START STOP" switch is in IGNITION ON mode, the wiper will operate once to show that AUTO mode is activated.
If no windshield washer fluid sprays
Check that the washer nozzles are not blocked if there is washer fluid in the windshield
washer fluid reservoir.
CAUTION:
Caution regarding the use of windshield wipers in AUTO mode The windshield wipers may operate unexpectedly if the sensor is touched or the windshield is subjected to vibration in AUTO mode. Take care that your fingers or
anything else do not become caught in the windshield wipers.
NOTICE:
When the windshield is dry Do not use the wipers, as they may damage the windshield.
When there is no washer fluid spray from the nozzle Damage to the washer fluid pump may be caused if the lever is pulled toward you and held continually.
See also:
Outside rear view mirrors
Mirror angle can be adjusted using the switch when the "ENGINE START STOP" switch is in ACCESSORY or IGNITION ON mode. 1. Select a mirror to adjust (L: left or R: right). 2. Adjust the mirror up ...
Using the phone book
To enter the menu for each function, follow the steps below using a voice command or : Adding a new phone number 1. "Phonebook" → 2. "Add Entry". Changing the registered name in the phone bo ...
Glove box
Glove box 1. Open (push button). 2. Lock with the mechanical key. 3. Unlock with the mechanical key. Glove box light The glove box light turns on when the tail lights are turned on. Trunk open ...