Windshield wipers and washer
With "AUTO" selected, the wipers will operate automatically when the sensor detects falling rain. The system automatically adjusts wiper timing in accordance with rain volume and vehicle speed.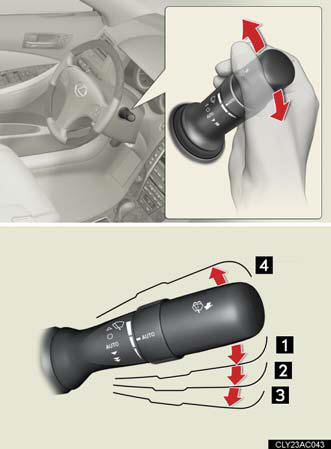 1. Rain-sensing windshield wiper operation.
2. Low speed windshield wiper operation.
3. High speed windshield wiper operation.
4. Temporary operation.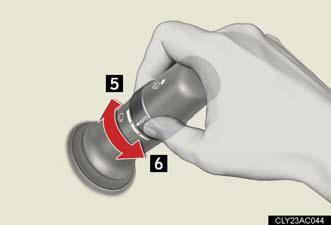 5. Sensor sensitivity (high).
6. Sensor sensitivity (low).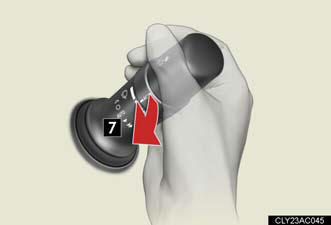 7. Wash/wipe operation.
Wipers operate automatically.
(With "AUTO" selected, after operating several times, the wipers operate one more time after a short delay to prevent dripping.)
The windshield wiper and washer can be operated when
The "ENGINE START STOP" switch is in IGNITION ON mode.
Rain drop sensor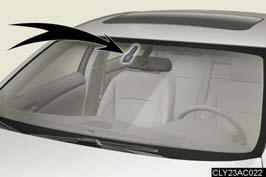 The sensor judges the amount of raindrops.
If the temperature of the raindrop sensor is 194°F (90°C) or higher, or 5°F (-15°C) or lower, automatic operation may not occur. In this case, operate the wipers in any mode other than "AUTO",
AUTO mode
If the wiper switch is turned to AUTO position while the "ENGINE START STOP" switch is in IGNITION ON mode, the wiper will operate once to show that AUTO mode is activated.
If no windshield washer fluid sprays
Check that the washer nozzles are not blocked if there is washer fluid in the windshield
washer fluid reservoir.
CAUTION:
Caution regarding the use of windshield wipers in AUTO mode The windshield wipers may operate unexpectedly if the sensor is touched or the windshield is subjected to vibration in AUTO mode. Take care that your fingers or
anything else do not become caught in the windshield wipers.
NOTICE:
When the windshield is dry Do not use the wipers, as they may damage the windshield.
When there is no washer fluid spray from the nozzle Damage to the washer fluid pump may be caused if the lever is pulled toward you and held continually.
See also:
Using the CD player
- Type A - Type B - Type C Loading a CD Loading a CD 1. Press . "WAIT" is shown on the display. 2. When the indicator on the slot turns from amber to green, insert a CD. The display cha ...
If the shift lever cannot be shifted from P
If the shift lever cannot be shifted with your foot on the brake pedal, there may be a problem with the shift lock system (a system to prevent accidental operation of the shift lever). Have the ve ...
Engine immobilizer system
The vehicle's keys have built-in transponder chips that prevent the engine from starting if the key has not been previously registered in the vehicle's on-board computer. Never leave the keys insid ...