Correct driving posture
Drive in a good posture as follows: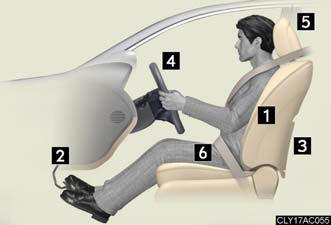 1. Sit upright and well back in the seat.
2. Adjust the position of the seat forward or backward to
ensure the pedals can be reached and easily
depressed to the extent
required.
3. Adjust the seatback so that the controls are easily operable.
4. Adjust the tilt and telescopic positions of the steering wheel downward so the airbag is facing your chest.
5. Lock the head restraint in place with the center of the head restraint closest to the top of your ears.
6. Wear the seat belt correctly.
CAUTION:
While driving
- Do not adjust the position of the driver's seat while driving.
Doing so could cause the driver to lose control of the vehicle.
- Do not place a cushion between the driver or passenger and the seatback.
A cushion may prevent correct posture from being achieved, and reduce the effectiveness of the seat belt and head restraint, increasing the risk of death or
serious injury to the driver or passenger.
- Do not place anything under the front seats.
Objects placed under the front seats may become jammed in the seat tracks and stop the seat from locking in place. This may lead to an accident. The adjustment
mechanism may also be damaged.
Adjusting the seat position: - Take care when adjusting the seat position to ensure that other passengers are not injured by the moving seat.
- Do not put your hands under the seat or near the moving parts to avoid injury.
Fingers or hands may become jammed in the seat mechanism.
See also:
If the electronic key does not operate properly
If communication between the electronic key and vehicle is interrupted or the electronic key cannot be used because the battery is depleted, the smart access system with push-button start and wirele ...
F Sport Performance Accessories
Lexus offers a selection of F Sport Performance Accessories for the IS models, including performance-enhancing parts such as 19-inch forged alloy wheels, brake upgrades, suspension systems, air in ...
Vehicle load limits
Vehicle load limits include total load capacity, seating capacity, towing capacity and cargo capacity. Total load capacity: 900 lb. (410 kg) Total load capacity means the combined weight of occupan ...