Outside rear view mirrors
Mirror angle can be adjusted using the switch when the "ENGINE START STOP" switch is in ACCESSORY or IGNITION ON mode.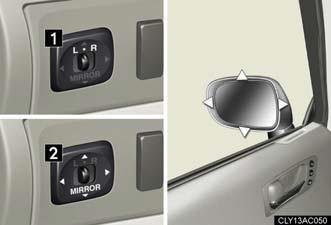 1. Select a mirror to adjust (L: left or R: right).
2. Adjust the mirror up, down, in, or out using the switch.
When the mirrors are fogged up
Turn on the mirror defoggers to defog the mirrors.
Folding back the mirrors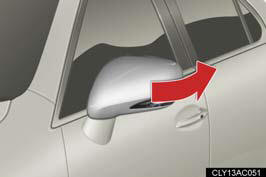 Push back in the direction of the vehicle's rear.
One-touch adjustment of the mirror angle (vehicles with driving position memory)
A desired mirror face angle can be entered to memory and adjusted with the touch
of a button.
Linked mirror function when reversing (vehicles with driving position memory)
The outside rear view mirrors will automatically angle downwards when the vehicle
is reversing in order to give a better view of the ground. However, this function will
not operate when the mirror select switch is in the neutral position (between L and
R).
Auto anti-glare function
When the anti-glare inside rear view mirror is set to AUTO mode, the outside rear
view mirrors will activate in conjunction with the anti-glare inside rear view mirror to
reduce reflected light.
CAUTION:
When driving the vehicle Observe the following precautions while driving.
Failing to do so may result in loss of control of the vehicle and cause an accident,
resulting in death or serious injury.
- Do not adjust the mirrors while driving.
- Do not drive with the mirrors folded back.
- Both the driver and passenger side mirrors must be extended and properly adjusted before driving.
When the mirror defoggers are operating Do not touch the rear view mirror surfaces, as they can become very hot and burn you.
See also:
Operating an iPod®
Connecting an iPod® enables you to enjoy music from the vehicle speakers. Connecting an iPod® Connect an iPod® using an iPod® cable. Press . Control panel Selecting a play mode 1. Press to ...
If the vehicle becomes stuck
Carry out the following procedures if the tires spin or the vehicle becomes stuck in mud, dirt or snow: 1. Stop the hybrid system. Set the parking brake and shift the shift lever to P. 2. Remove ...
Using the CD player
Loading CDs Loading a CD 1. Press . "WAIT" is shown on the display. 2. When the indicator on the slot turns from amber to green, insert a CD. The display changes from "WAIT" to "LOAD". Loadin ...