Steering wheel
The steering wheel can be adjusted to a comfortable position while the "ENGINE START STOP" switch is in ACCESSORY or IGNITION ON mode.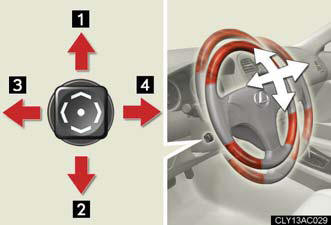 1. Up.
2. Down.
3. Away from the driver.
4. Toward the driver.
Auto tilt away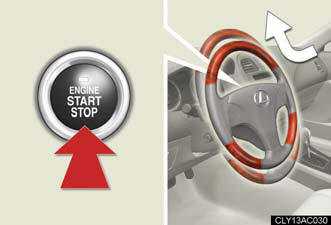 When the "ENGINE START STOP" switch is turned OFF, the steering wheel returns to its stowed position by moving up and away to enable easier driver entry and exit.
Turning the "ENGINE START STOP" switch to ACCESSORY or IGNITION ON mode will return the steering wheel to the original position.
CAUTION:
Caution while driving
Do not adjust the steering wheel while driving.
Doing so may cause the driver to mishandle the vehicle and an accident, resulting in
death or serious injury.
See also:
Used Lexus IS 250 Models
Introduced for the 2006 model year, the present-generation IS 250 represents the second iteration of the Lexus IS series. These earlier cars are pretty much the same as the current model, though t ...
2006 Lexus LX 470 review
To test the redesigned 2006 Lexus LX 470, we headed out to Los Angeles with another couple for a sightseeing vacation. What better way to put the Japanese luxury sport-utility vehicle -- the exp ...
Seat heaters and ventilators
The seat heaters and ventilators heat the seats and maintain good airflow by blowing air from the seats. Seat heaters 1. Turns the seat heater on. The indicator light comes on. The higher the n ...