Keys
The following keys are provided with the vehicle.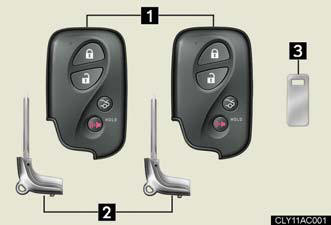 1. Electronic keys.
• Operating the smart access system with push-button start.
• Operating the wireless remote control function.
2. Mechanical keys
3. Key number plate
Using the mechanical key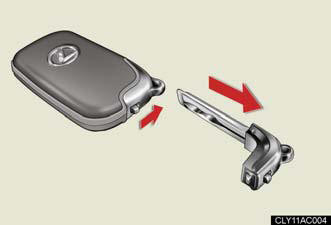 Take out the mechanical key.
After using the mechanical key, store it in the electronic key. Carry the mechanical key together with the electronic key. If the electronic key battery is depleted or the entry function does not operate properly, you will need the mechanical key.
When required to leave a key to the vehicle with a parking attendant
Turn the trunk opener main switch OFF and lock the glove box and the armrest door as circumstances demand.
Remove the mechanical key for your own use and provide the attendant with the electronic key only.
Key number plate
Keep the plate in a safe place such as your wallet, not in the vehicle. In the event that
a mechanical key is lost, a new key can be made at your Lexus dealer using the key
number plate.
When riding in an aircraft
When bringing an electronic key onto an aircraft, make sure you do not press any
buttons on the electronic key while inside the aircraft cabin. If you are carrying an
electronic key in your bag etc, ensure that the buttons are not likely to be pressed
accidentally. Pressing a button may cause the electronic key to emit radio waves that could interfere with the operation of the aircraft.
NOTICE:
To prevent key damage.
- Do not subject the keys to strong shocks, expose them to high temperatures by placing them in direct sunlight, or get them wet.
- Do not expose the keys to electromagnetic materials or attach any material that
blocks electromagnetic waves to the key surface.
- Do not disassemble the electronic key.
See also:
Operating a Bluetooth® enabled portable player
- Type A - Type B Selecting an album To select the desired album, press or . Selecting tracks Press or on to select the desired track. Playing and pausing tracks To play or pause a tr ...
Interior
Lexus says the 4 inches of greater length from bumper to bumper adds the same amount to the cabin. In terms of legroom, inches make a big difference. Still, the third-row seats are similar to the ...
Interior lights and personal lights
Interior lights 1. Front and rear interior lights ON/OFF. 2. Door position ON/OFF. The illuminated entry system is activated when the switch is in the locked position (the door position is on ...