Keys
The following keys are provided with the vehicle.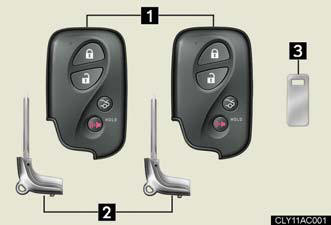 1. Electronic keys.
• Operating the smart access system with push-button start.
• Operating the wireless remote control function.
2. Mechanical keys
3. Key number plate
Using the mechanical key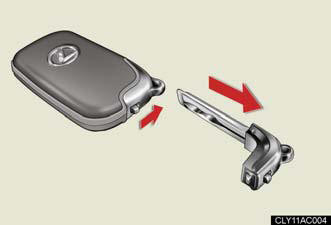 Take out the mechanical key.
After using the mechanical key, store it in the electronic key. Carry the mechanical key together with the electronic key. If the electronic key battery is depleted or the entry function does not operate properly, you will need the mechanical key.
When required to leave a key to the vehicle with a parking attendant
Turn the trunk opener main switch OFF and lock the glove box and the armrest door as circumstances demand.
Remove the mechanical key for your own use and provide the attendant with the electronic key only.
Key number plate
Keep the plate in a safe place such as your wallet, not in the vehicle. In the event that
a mechanical key is lost, a new key can be made at your Lexus dealer using the key
number plate.
When riding in an aircraft
When bringing an electronic key onto an aircraft, make sure you do not press any
buttons on the electronic key while inside the aircraft cabin. If you are carrying an
electronic key in your bag etc, ensure that the buttons are not likely to be pressed
accidentally. Pressing a button may cause the electronic key to emit radio waves that could interfere with the operation of the aircraft.
NOTICE:
To prevent key damage.
- Do not subject the keys to strong shocks, expose them to high temperatures by placing them in direct sunlight, or get them wet.
- Do not expose the keys to electromagnetic materials or attach any material that
blocks electromagnetic waves to the key surface.
- Do not disassemble the electronic key.
See also:
Bluetooth® audio system setup
System setup items and operation procedures - Pattern A. To enter the menu for each function, follow the steps below using a voice command or : - Pattern B. 1. Press to select "BT•A MENU". 2. Se ...
Under the Hood
For 2006, the 4.7-liter V-8 produces 263 hp and 323 pounds-feet of torque. Those numbers are down slightly from the 2005 model's 270 hp and 330 pounds-feet of torque due to new SAE testing procedu ...
Using the phone book
To enter the menu for each function, follow the steps below using a voice command or : Adding a new phone number 1. "Phonebook" → 2. "Add Entry". Changing the registered name in the phone bo ...